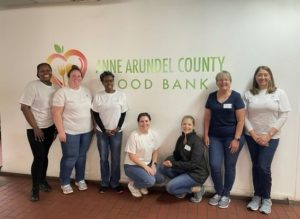 As the summer comes to a close, Medical Legal Services looks back at some highlights from earlier this year. Our team of Life Care Planners and Case Managers not only provide exceptional support for both life care planning and care management clients, but also supports various organizations and foundations through professional development and volunteer opportunities. 
Kay Hairston BSN, RN, CCM, CNLCP, Life Care Planner and Case Manager, attended the American Association of Nurse Life Care Planners (AANLCP) Conference in March 2023. "Taking Care of Business" was their first in-person conference post-COVID and was held in Memphis, Tennessee. The conference kicked off with a multidisciplinary presentation on management of burn injuries, which captivated eager attendees. Over the course of the weekend, over 10 presentations were designed to foster deeper understanding of various life care planning topics with opportunities for professional networking and socializing. Kay had a chance to experience the historical landscape around Memphis with visits to The Lorraine Motel, the National Civil Rights Museum, and Graceland. Kay is looking forward to the 2024 AANLCP conference, which will be held in Peachtree City, Georgia.   
Susan Guth, LCSW, CCM, CLCP, Life Care Planner and Case Manager, continues to serve on the Social Work Health Leadership Foundation (SWHLF) Board of Directors.
"I valued my time to serve as President and look forward to dedicating time to serve on the Board of Directors," stated Susan. 
Continuing with our commitment to serve the community, Medical Legal Services team members spent the morning of May 16th volunteering with the Anne Arundel County Food Bank. The team helped sort food donations and removed expired or damaged goods from inventory. The Anne Arundel County Food Bank serves thousands of county residents experiencing food insecurity every month and in 2022, distributed over four million pounds of food to community members in need.
"Every year the team looks forward to volunteering in the community, we feel that what the Food Bank does is important, and we plan to volunteer with them again in the future," shared Lauren Smelser, Care Management Associate. 
Looking forward, The International Academy of Life Care Planners (IALCP) and International Association of Rehabilitation Professionals (IARP) are gearing up for their 2023 Fall Forum and Symposium happening in late October; the event will be held in Arlington, Virginia. In preparation for the upcoming event, both Susan and Nancy Bond, M. Ed, CCM, CLCP, Senior Vice President, Medical Legal Services, participated in the IALCP Education Committee. Both Susan and Nancy are looking forward to attending the conference later this year.